The overall impact of a company is determined by what it produces, environmental impact, its recruitment and training processes, its adherence to rights and values, its investment in the community, and so on. Coffey are committed to implementing positive changes in the communities where we operate.
Some examples of how we support the communities where we work include:
Directly employing staff from the locality, including unskilled operatives, apprentices and engineers
Training and upskilling local staff
Sourcing plant and materials from local suppliers
Hiring local sub-contractors
Purchasing materials from local suppliers
Providing public amenities such as landscaping and park facilities
Contributing to local projects
Sponsoring local teams
Providing site visits for schools and colleges
Attending meet the buyer events
Attending careers open days in local schools and colleges
Upskilling the local supply chain to improve their performance on tenders and once they get to the site, so that they are better able to compete for work.
At Coffey, we firmly believe that active and structural collaboration with clients, suppliers and local communities allows for better project results which, is in turn, better for all stakeholders.
---
Sponsorships
Community Engagement – Dalton Lane Project, Thirsk, Yorkshire
Coffey delivered a new bridge and highway along with additional link roads in Dalton Lane (approximately 6.5km south-west of Thirsk) and just east of Topcliffe village in 2017. Coffey teamed up with local football club, Thirsk Falcons during the project. The club field the "fledglings" who are the three to five-year-olds starting to get involved in football, along with teams at U-7, all the way up to U-18 and a senior team. Coffey sponsored the club's U-13 team with a new kit as part of our Community engagement whilst working in the locality.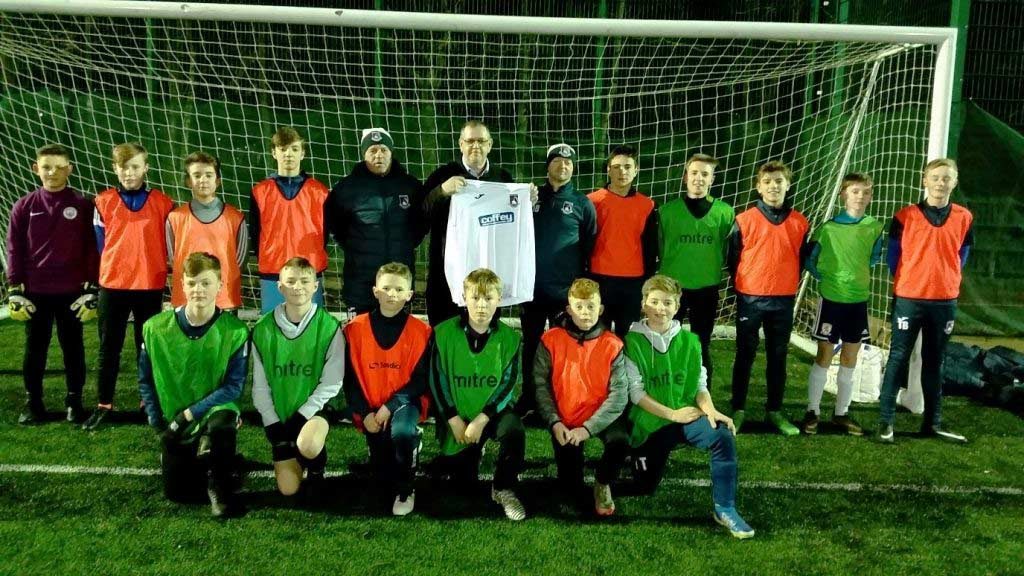 Andy Burton, Project Manager at Coffey , pictured presenting the Thirsk Falcons U-13 team with their new kit.
---
Community Engagement – Tuam Swimming Club
Coffey is a proud sponsor of Tuam Swimming Club providing the club with sports equipment for athletes of all levels.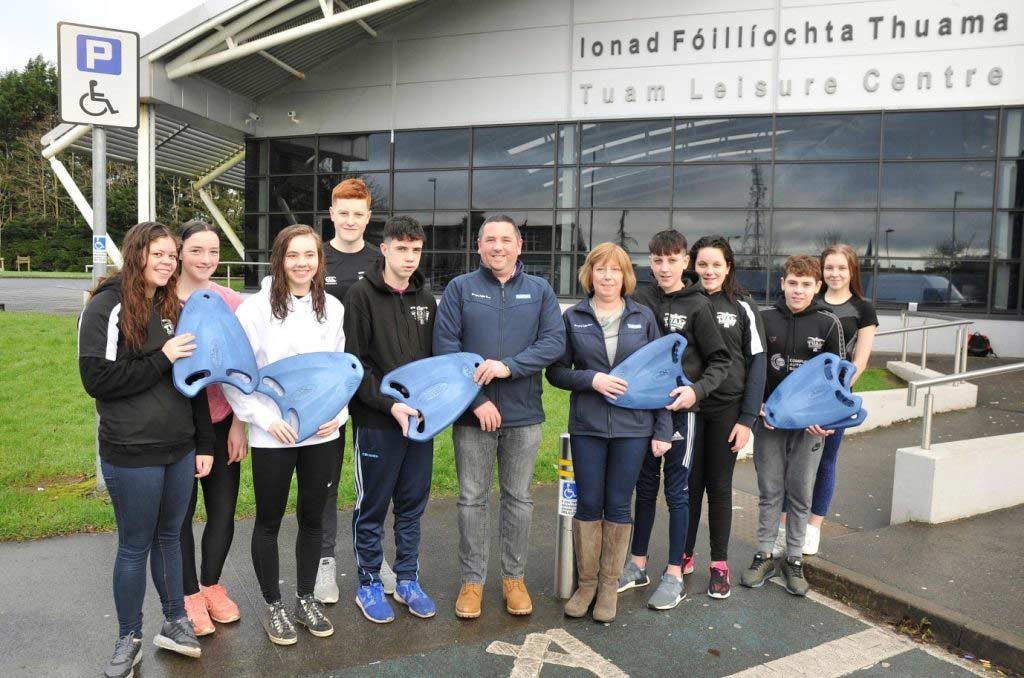 Simon & Olivia Coffey from Coffey with Tuam Swimming Team Members at Club Sponsorship Announcement in January 2018.
---
Supporting Charities
Supporting charities, both local and national, is part of the culture at Coffey. Our staff have raised much-needed money for a number of local charities and national fundraisers. Charities that we regularly support include Croi Heart and Stroke Charity, Cancer Care West, Macmillian Cancer Support, Movember and Cope Galway.
Movember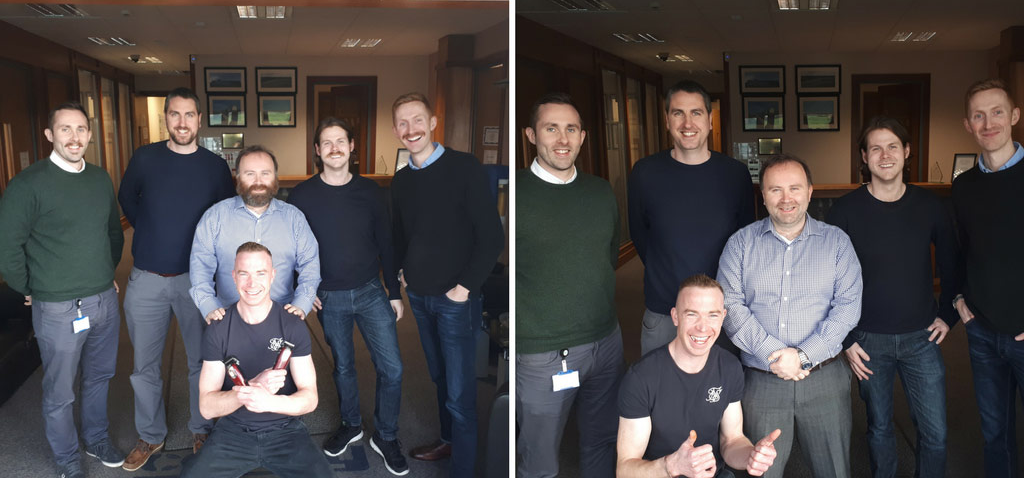 Coffey staff members Danny Flynn, James Sheehan, Sean Coffey, Keith Connolly and Michael Madden pictured (before and after the big shave) with barber Padraic from The Barber Shop, Athenry, at our head office at our Movember fundraiser. The Coffey team raised an impressive €1730 for men's' cancer research.
Cancer Care West

Pictured at the cheque presentation following our head office Jersey Day fundraiser for Cancer Care West were David Solla Sobral, Rachel Dooley from Cancer Care West, Rebecca McDermott, Cheryl Winston and Sean Coffey.
Croi Virtual Night Run
Croí is a heart and stroke charity, who are leading the fight against heart disease and stroke, with a particular focus on the West of Ireland. Their mission is to prevent disease, save lives and promote recovery & wellbeing.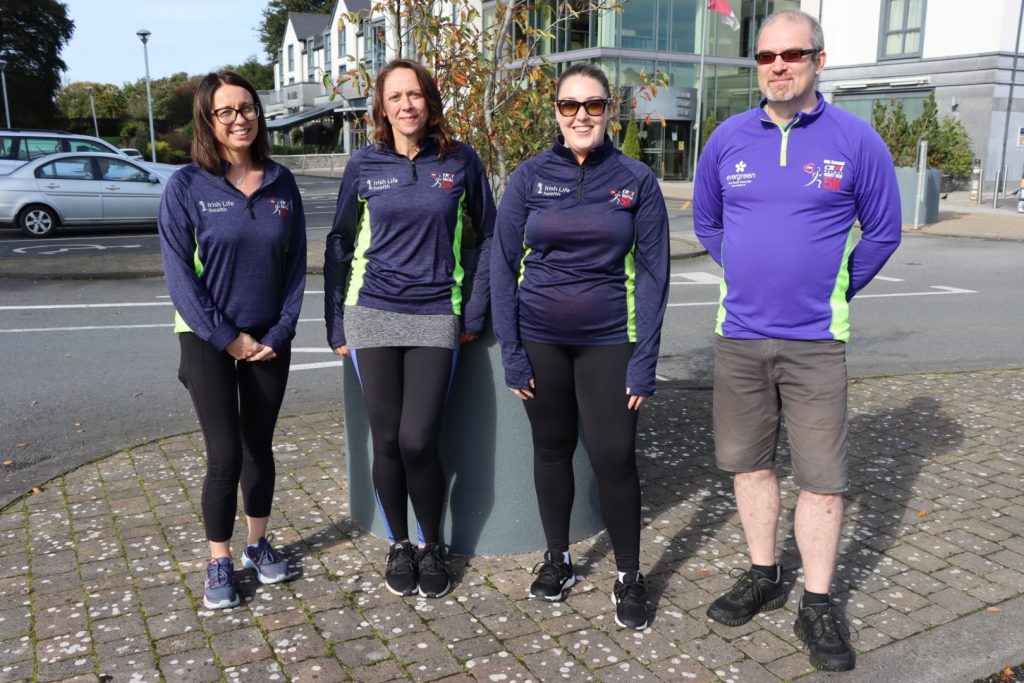 Fiona Flattery, Niamh McNulty, Sinead O'Brien & JP Kavanagh participated in the Croi Fun Run – October 2021
---
Our Policies
Anti-Bribery Policy
Coffey is committed to implementing and enforcing effective systems to counter bribery. For a full copy of the Coffey Anti-Bribery Policy click HERE.
Collaboration Policy
Coffey are committed to partnering and collaboration in the Civil, Building and Environmental Engineering Industry and the benefits that can bring to the organisation. We are committed to putting in place, initiatives to improve procurement and project delivery through early design team engagement, contractor involvement in the design and cooperative client relationships. Click HERE for the policy.
Energy and Carbon Management Policy
As a design, build & operate company operating in an energy intense wastewater and water treatment sector, Coffey strives to reduce energy usage by kWh/mᵌ of water processed. To view the Coffey Energy and Carbon Management Policy click HERE.
Environmental Policy
Coffey is committed to protecting the environment and ensuring that the company's activities are conducted in a manner that maintains the highest environmental standards at the design, planning, execution, operational and maintenance stages of our projects. For a full copy of the Coffey Environmental Policy click HERE.
Modern Day Slavery Act Policy
Coffey recognises that slavery and human trafficking remains a hidden blight on our global society. The aim of Coffey is to identify our responsibility by alerting staff to the risks, however small, in our business and in the wider supply chain. Staff are expected and encouraged to report concerns to management, where they are expected to act upon them this policy applies to all those employed by Coffey. For a copy of our full Policy Document please click HERE.
Occupational Health & Safety Policy
Coffey actively promotes the achievement of good health and safety standards equally, in line with all other corporate objectives and is vested in the development and on-going support of a positive health and safety culture. For a copy of our full Policy Document please click HERE.
Quality Policy
Coffey is committed to providing a quality product and service in the most environmentally friendly manner possible without impinging on the well-being of our employees, suppliers/subcontractors, clients, the environment and the general public. For a copy of our Quality Policy Document please click HERE.
Whistleblowing Policy
Coffey Whistleblowing Policy is intended to encourage Board members, employees and others to report suspected or actual occurrence(s) of illegal, unethical or inappropriate events (behaviours or practices) without retribution. For a full copy of the Coffey Whistleblowing Policy click HERE.
---
Contact us for more details on our Corporate Social Responsibility initiatives – Click here