From its establishment in 1974, Coffey quickly developed into one of the largest civil engineering and public works contractors in Ireland and, has built a similar reputation across the UK. Our self-delivered civil engineering capability includes:
Earthworks
Substructures
Roads and drainage
Bridges
Surface and underground car parks
External works and infrastructure for both commercial and public developments
Our self-delivered, single contractor solution enables efficient delivery of projects and avoids interface disruption and materials wastage. Coffey in-house capabilities allows the delivery of a complete end-to-end civil engineering service to our clients including design, build and operate as required.
We have developed strong relationships with local authorities and other statutory bodies across Ireland and the UK.
We directly employ a workforce of more than 300 people and we have established a significant fleet of heavy plant and equipment to carry out our civil work and get the most demanding jobs completed on time.
Selected Water Sector Reference Projects
Design & Build of M7 Motorway
Client: National Roads Authority
The project involved the design and build of a section of the new M7 motorway. The widening of the Nenagh Bypass (approximately 10km) to provide a Motorway.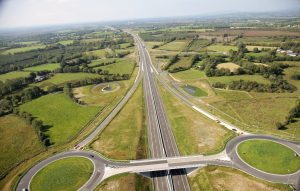 Approximately 2km of new single carriageway to link the proposed M7 to the existing N7 at Birdhill Grade separated junctions on the proposed M7 with all associated slip roads at Newport, Coolderry, Carrigatogher and Knockalton (Thurles Road) and realignment and upgrading of various single carriageway National Roads.
Coffey was responsible for the Design and construction of three bridges as part of this contract, earthworks & drainage associated with a aproximately 28 kilometres of new dual carriageway (to motorway standard) & associated wetland treatment ponds & infiltration basin.
Contact us to discuss your civil engineering project and to explore how we can help.