Coffey has a long history of successfully delivering critical transport infrastructure works. We have delivered roads projects throughout Ireland and the UK, with projects ranging in value from €50,000 to €175,000,000.
Our in-house plant, which includes bulk earth-moving equipment, has enabled us to efficiently deliver some of our most important projects. Wherever practical,  we undertake our work using directly employed staff and trades people. This policy is at the heart of our safety and quality agenda. Our personnel are provided with extensive training, and their competence to undertake the tasks assigned to them is assured through our Integrated Management System which is accredited against OHSAS 18001, ISO 9001 and ISO 14001.
In the rail sector, Coffey has worked closely with Irish Rail since the 1980s and has completed many Irish Rail projects. We also have rail experience in the UK, notably working on the Edinburgh Tram Network project.
Coffey has also delivered both bridge and culvert structures over the last 40 years. The structures have been a combination of Reinforced Concrete, Steel and pre-cast Concrete options and have brought innovative solutions to the construction and installation of the structures.
Selected Transport Sector Reference Project
M9 Chartershall Bridge Replacement
Client: Transport Scotland
Project consisted of the demolition of a life-expired 2-span steel reinforced concrete composite bridge over the M9 near Stirling in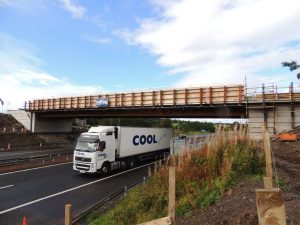 Scotland and replacement with a single span composite bridge with a 42 metre singe span structure consisting of in-situ concrete on steel I-beams with shear studs with an F3 fair-faced concrete finish. The bridge is founded on 24 bored piles 900mm in diameter and 18 m deep. The two deck beams were also lifted into place in a full road closure. The works included 350 metres of road realignment and the construction of crib walls to support the realigned Chartershall Road (as the bridge is 0.5m higher than the previous one). A contractor designed precast concrete crib wall retaining wall supported the increased height of the approach roads.
Contact us to discuss your waste or wastewater issue and to explore how we can help.