Coffey has been awarded a contract to upgrade the Athenry Sewerage Scheme Network by Irish water. The upgrade is a significant infrastructure project that will help to protect public health and the local environment by ensuring that wastewater is properly collected and transfered for treatment before being released back into the environment. Specifically, the works will allow current and future housing in the town to connect directly to the Athenry wastewater treatment plant and eliminate the existing private treatment plants in use throughout the locality.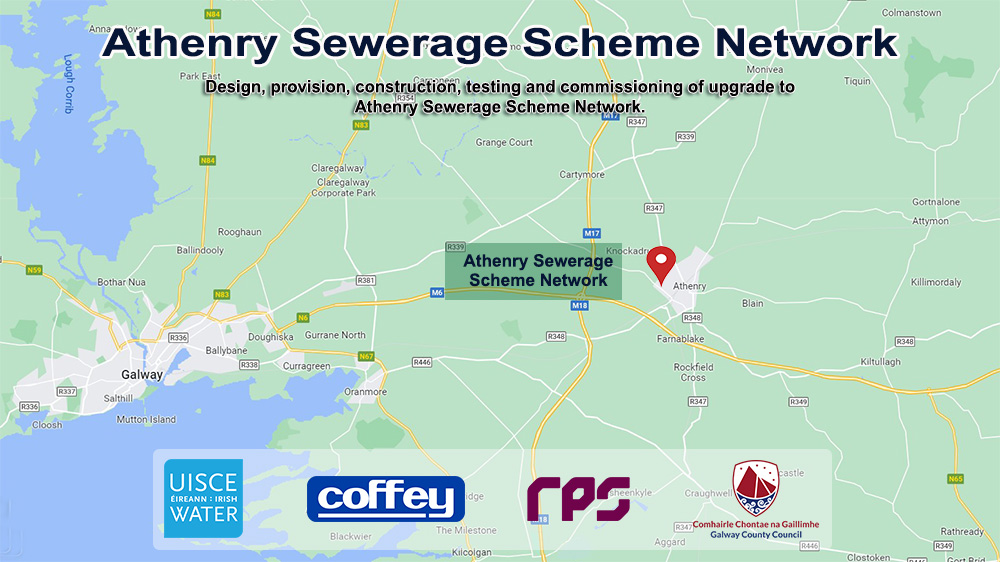 The contract consists of the design, provision, construction, testing and commissioning of an upgrade to the Athenry Sewerage Scheme Network including:
• Installation of 493m of rising main and 3,872m of gravity sewer pipes incorporating three rail crossings and two river crossings along the various routes
• Decommissioning and removal of the existing pumping station at Caheroyan
• Construction of new main pumping station adjacent to Pairc na hAbhainn housing estate with rising main which will be connected to Athenry wastewater treatment plant
Coffey will deliver this project on behalf of Irish Water, and we look forward to working with the client and RPS Consultants who are the client representative on the project. The works will commence in early 2023 and are forecast to be completed in 2025.
Please contact Coffey on 091 844 356 or email at info@coffeygroup.com for more details on this project and the other works we have underway with Irish Water.