Coffey is set to commence work on the Coolatee Sewerage Scheme in Co. Donegal on behalf of Uisce Éireann Irish Water and Donegal County Council. The project will deliver a newly Constructed Wetlands (CW) type Wastewater Treatment Plant (WWTP) and associated sewerage infrastructure on a greenfield site located north of Lifford, Co. Donegal.

Constructed Wetlands (CW) technology is an environmentally friendly and sustainable approach to wastewater treatment. The technology involves the use of natural wetlands that mimic the functions of a traditional wastewater treatment plant, but in a more cost-effective and eco-friendly manner. The CW approach offers several benefits, such as the reduction of energy consumption, lower operational costs, and a smaller carbon footprint.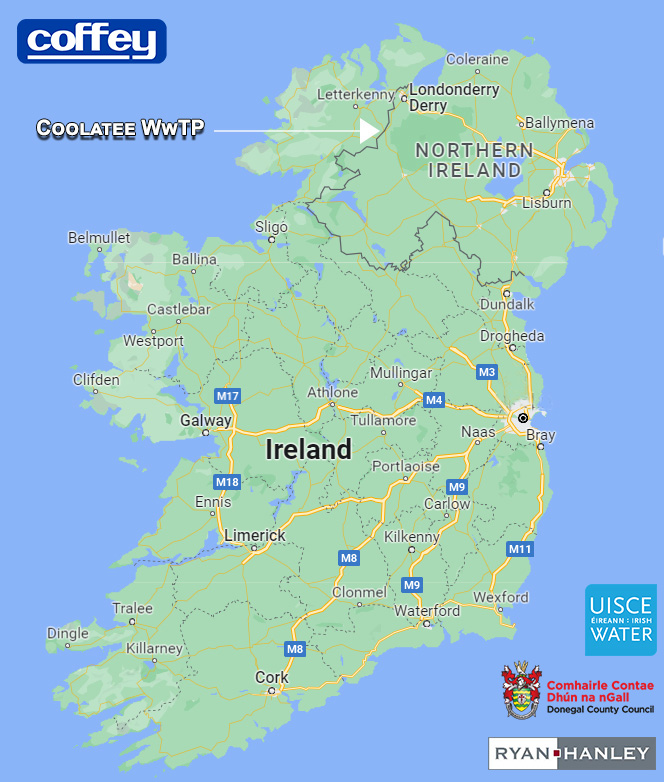 Upon completion, the Coolatee Sewerage Scheme will end the discharge of untreated wastewater into the River Foyle in County Donegal. The increased capacity will facilitate future social and economic progress in the region, while also ensuring adherence to national and European Union regulations governing the discharge of wastewater.

The elements of the Coolatee Sewerage Scheme project are:
• Constructed Wetland comprising of 4 No. equally sized ponds with a total surface area of 2,900m2
• Septic tank with a minimum working liquid volume of 54m3
• Storm Water Overflow
• Ancillary chambers and groundwork
• Piping, chambers, and associated works
• Design and construction of the WWTP access road (approx. 120m) including access gates
• Reinstatement and landowner accommodation work required by the Contract.
Coffey will deliver the Coolatee Sewerage Scheme project on behalf of the client, Uisce Eireann, and we look forward to working with Donegal County Council and Ryan Hanley who are the client representative on the project.
Please contact us on 091 844 356 or email info@coffeygroup.com for more details on this project and the other works we have underway with Uisce Eireann.