Coffey has commenced work on the Galway West Water Supply Scheme – Terryland Water Treatment Plant (WTP) Intake Works Project on behalf of Irish Water.
The works involve the construction of a new raw water intake on the River Corrib and associated infrastructure at Terryland which, once complete, will provide for the adequate supply of Drinking Water to Galway City and environs. The project will also allow for possible future extension of supply, in compliance with National Drinking Water Regulations.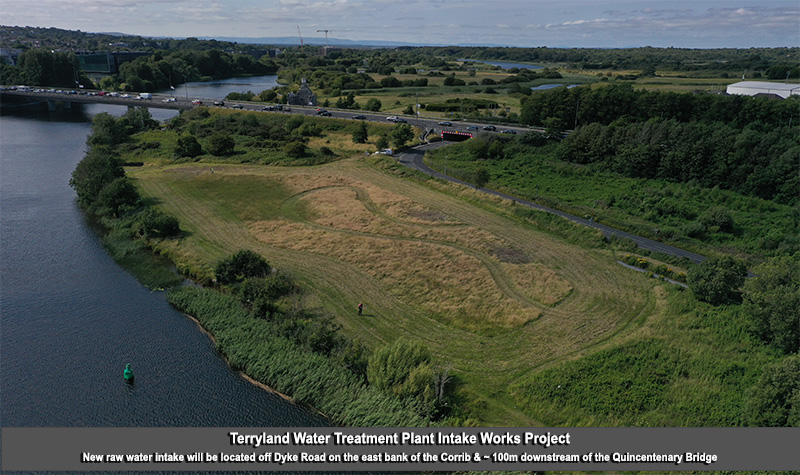 Galway City Council is responsible for maintaining the public mains systems and ensuring the quality of the water in Galway city. Currently, the Terryland WTP meets the drinking water needs of the city's 80,000 residents. The plant is supplied with raw water abstracted from the River Corrib via an Intake located on the east bank of the river, upstream of the Quincentenary Bridge.
Coffey will construct a new raw water intake near the Dyke Road on the east bank of the river and approximately 100m downstream of the Quincentenary Bridge. The new intake will have the capacity to supply approximately 55 mega litres of raw water per day (MLD) to Terryland WTP and will have the provision to upgrade to 90 MLD in future. The associated infrastructure for the intake will include a control building, access road, floating boom system, riverbank and bed erosion mitigation measures and water supply, electrical and telecommunication ducting to the Intake works. A 1,200mm pipeline 'transfer main' is also incorporated in the works. The transfer main will pass under the N6 Quincentenary Bridge and Terryland River and will connect the new Terryland raw water intake and the existing Terryland raw water intake.
This project will provide Galway City residents with a safer and more reliable water supply, and it is expected that the works will be completed in 2024.
Please contact Coffey on 091 844 356 or email at info@coffeygroup.com for more details on this project and the other works we have underway with Irish Water.