An apprenticeship is a programme of training in the place of work, combined with formal learning in an education or training centre. Today, the apprentice pathway is an increasingly attractive alternative to the higher education route for many young people. Apprenticeships are an opportunity to earn a salary as an employee while gaining valuable knowledge and skills and on successful completion of training, apprentices become recognised craftspeople or professionals in their area of expertise.
Employers also benefit from the apprenticeship programme. It is proven way to attract, develop and retain the talent required for future growth of both the company and industry. An employer can offer an ambitious employee, keen to learn their chosen trade, a pathway to a recognised and widely respected qualification, and the apprentice gets to kickstart their career, a win-win for all involved. Up until recently, most apprenticeships in Ireland were focused on the Construction, Manufacturing and Motor industries, often referred to as the traditional Craft Apprenticeships. However, since 2016, following the success of the apprenticeship model in other European countries; employers, education providers and the government, are now collaborating to provide a broader range of apprenticeship opportunities across several sectors including financial services, science, IT, logistics, arboriculture, agriculture, etc.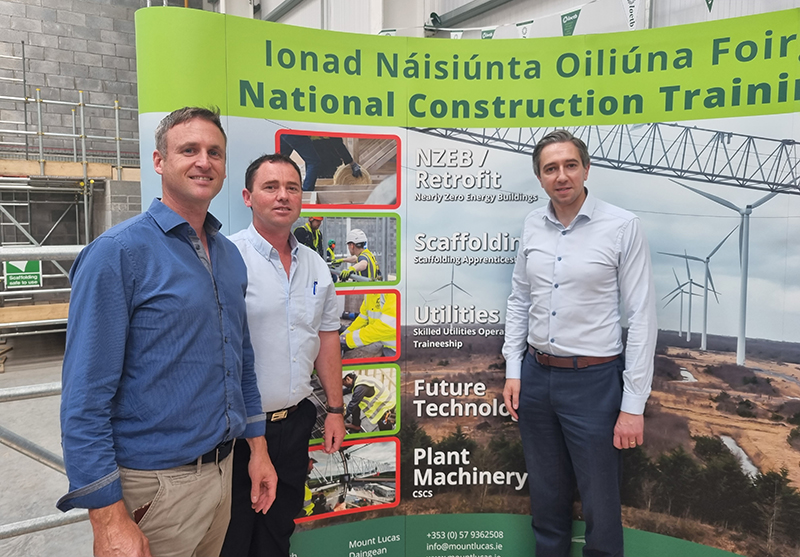 Minister Simon Harris visited the National Construction Training Centre at Mount Lucas yesterday (Monday 18th July) and launched the QQI Level 5 National Scaffolding Apprenticeship which is Ireland's first ever Scaffolding Apprenticeship programme. He also announced that Laois & Offaly ETB has secured approval to add capacity at the retrofitting and Near Zero Energy Buildings (NZEB) training facility on the site and turned the sod on a new Demonstration Park for Modern Methods of Construction, a key action in the Government's Housing for All programme.
The National Construction Training Centre at Mount Lucas, Co. Offaly offers a range of training and testing services in construction related areas for members of the public. Coffey is working with Mount Lucas in sponsoring trainees through the Skilled Utilities Operator traineeship. This is a 13-month training programme which provides the trainees with the skills and knowledge they will need to deliver infrastructure for utilities companies. Upon successful completion of the traineeship, the recipients achieve a CABWI Level 2 Diploma in Network Construction Operations – Water (Main Layer) as well as many essential industry recognised training qualifications.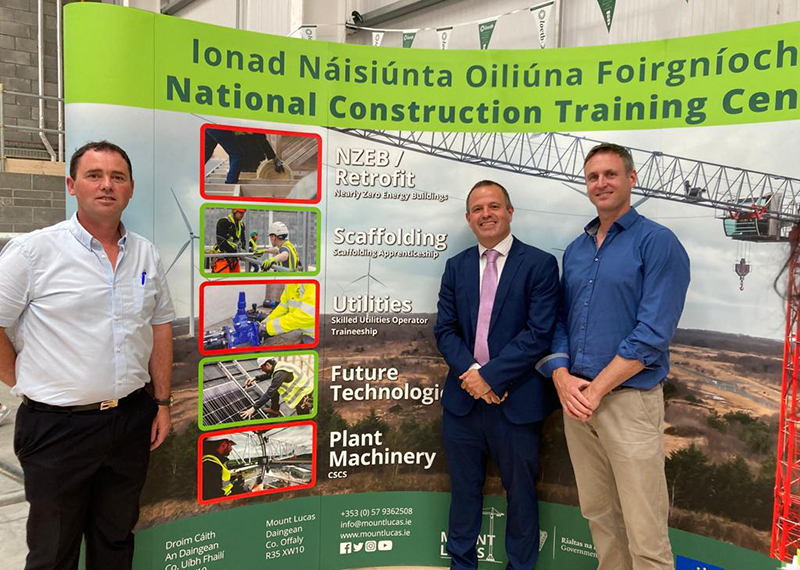 Cathal Kerrigan, Construction Operations Manager, instrumental in the development of the apprenticeship programme at Coffey joined Minister Harris at Mount Lucas.
He commented:
"At Coffey, we view the apprenticeship programme as a key component in developing our staff for their longer-term success – the programme will equip our apprentices with a career for life rather than just a job through the meaningful experience they gain and valuable qualification they receive on completion. Coffey has fellow contractors in the construction industry, the team at Mount Lucas and the Construction Industry Federation, to develop the Skilled Utilities Operator traineeship and to make this programme relevant for the industry.
We are looking forward to cooperating with the same stakeholders on the development of the new apprenticeship programmes going forward."
Contact Coffey at info@coffeygroup.com for more details on our apprenticeship programmes across a range of construction trades.