Coffey has signed a construction contract to build a new, €1.5M, treated water storage reservoir for Enfield, Co Meath. The contract, with Irish Water who are in partnership with Meath County Council, has been fast-tracked to alleviate supply issues experienced by residents in the south Meath area in recent times.
The project will deliver a new, covered reservoir with a capacity to store 300,000 litres of treated drinking water supplied from Enfield Water Treatment Plant. The works will also include a new pumping station to pump treated water into the supply, associated pipelines for connection to the new reservoir and will deliver the MEICA (Mechanical, Electrical, Installation, Commissioning and Automation) works associated with the new reservoir.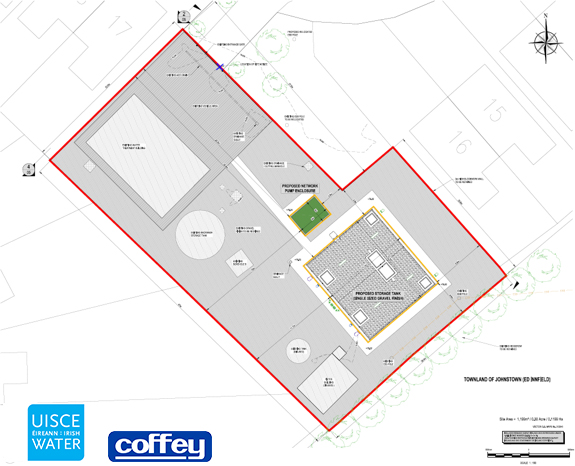 Site plan for Enfield Reservoir
The project is expected to cost €1.5m and will provide an additional 8 hours of water supply in the event of an interruption at the treatment plant. This additional capacity will help provide a safer, more reliable water supply for homes and businesses in the area served by the Enfield Water Treatment plant.
Coffey's Eastern regional office is at Enfield Business Park and the project will be managed from this location. The Coffey team will commence construction in Q1 2022, and we look forward to delivering this project and the benefits it will offer to the Enfield community upon completion of the works in Q3 2022.
Call us on 091 844 356 or email at info@coffeygroup.com for more details on this project and the other works ongoing throughout Ireland and the UK at the moment.
Click the links below for more details about Coffey.