Coffey and Coftec are delighted to announce that we have been awarded the Public Sector Award for Excellence in Civil Engineering for Water, Wastewater and Infrastructure Projects from the Public Sector Magazine for 2022.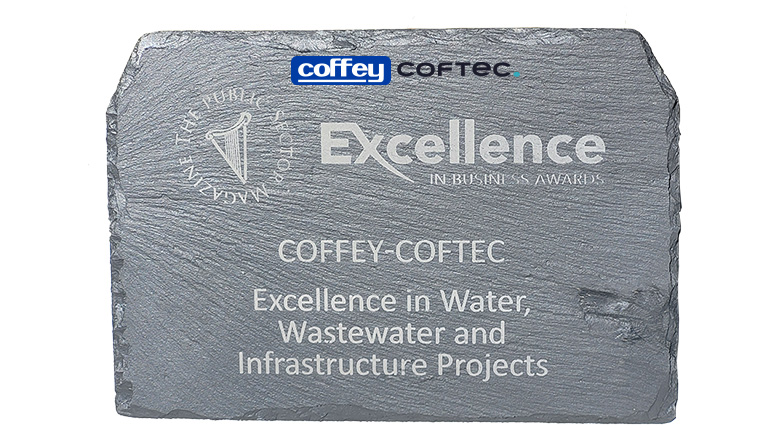 The Public Sector Magazine is a quarterly publication distributed to all departments within the public sector, semi-state bodies and civil service. The publication informs Ireland's key strategic decision makers within the public sector on the latest news, products, and services. Each year, the publication presents the Excellence in Business Award which recognises excellence in key providers to the Irish Public Sector. Coffey and Coftec has received the award for Excellence in Civil Engineering for Water, Wastewater and Infrastructure Projects; recognition of the significant contribution that Coffey and Coftec have made in the Civil Engineering for Water Treatment and Infrastructure Projects for 2022.
Simon Coffey commented:
"This is a great achievement for Coffey and Coftec and we are proud that our modular water treatment plants, water quality monitoring, and water purification technologies and design capabilities have received this seal of approval by the Public Sector Magazine. The establishment of Coftec means that Coffey is an end-to-end service provider to customers requiring a solution to process either their water or wastewater stream. We can offer the complete design, build, operate package along with installation and commissioning as required. Our offer includes best available technologies in relation to DBO along with state-of-the-art monitoring and purification technologies if required through the Coftec vendor partnerships."
The Coffey and Coftec customer philosophy focuses on developing a collaborative working relationship with the client. To this end, Coffey holds the ISO44001 collaborative certification, and is the first construction company in Ireland to hold, and retain this standard. The standard provides a roadmap for establishing and managing collaborative relationships with suppliers (upstream), customers (downstream), partners (horizontal) and inter department or function (internal) to generate benefits for all parties in the projects we deliver.
Public sector projects demand high standards at reasonable costs. Coffey and Coftec prides ourselves on being different and standing out from the competition. Our in-house technical and engineering resources and capabilities provide our clients with the option of build, design & build or design, build & operate according to their needs. This flexibility offers significant value for both our public and private sector clients and this award is testament to our commitment to Excellence in Civil Engineering for Water, Wastewater and Infrastructure Projects for the former sector.
Call Coffey on 091 844 356, email at info@coffeygroup.com for more details on our public and private sector projects across the range of markets in which we operate.