Coffey has presented a cheque for €4,000 to Galway Hospice as the proceeds from the recent Croagh Patrick Climb fundraiser held on Saturday 18th June 2022.
Simon Coffey, on behalf of Coffey, presented a cheque for €4,000 to Lorraine Gallagher of Galway Hospice on her visit to the Coffey head office in Athenry on Wednesday 22nd June 2022. Staff from Coffey took part in the Croagh Patrick Climb and donations and sponsorships from this effort were matched by Coffey to bring the total raised to €4,000.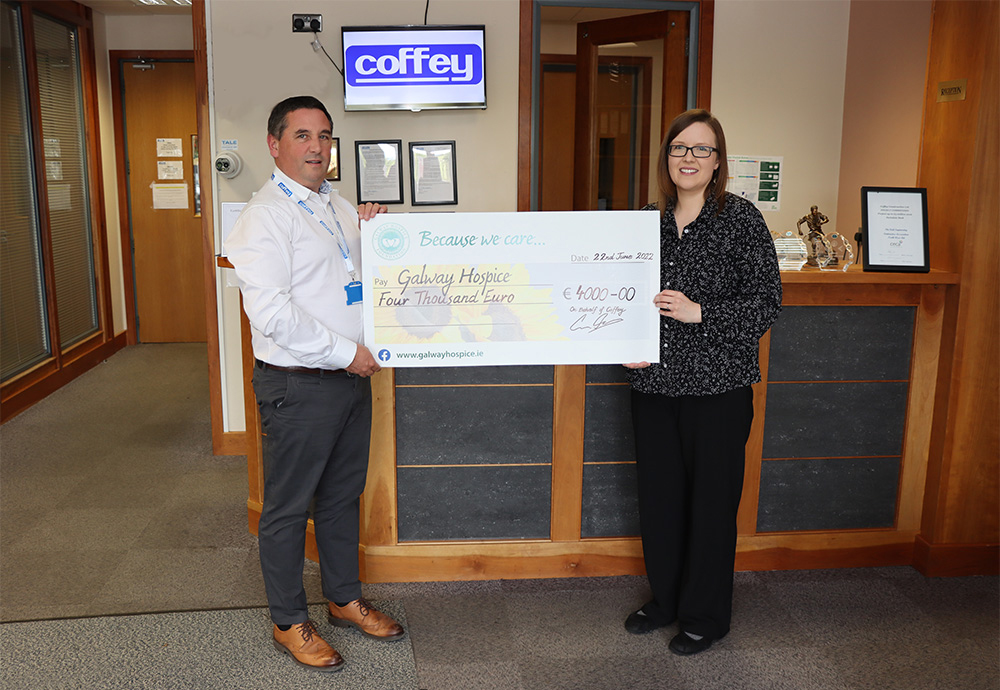 The Galway Hospice partners with the Health Service Executive, and supports patients from counties Galway, Mayo and Roscommon with advanced diseases needing palliative care to attain the best quality of life possible. The Croagh Patrick climb is a major fundraising event for the charity and takes place on the third Saturday of June each year. This year's event was especially special, as it is the first climb since 2019 because of the Covid-19 restrictions.
The climb is one of four charity events Coffey is supporting in 2022 and eleven staff from across the company made the climb on Saturday 18th June 2022. The cumulation of those efforts was a magnificent €2,000 in donations raised in advance of the ascent. This total was matched by the Coffey organisation, which has resulted in a total donation of €4,000 for this very deserving cause.
Simon Coffey thanked the Galway Hospice for their hard work and commitment to the patents and their families who are impacted by cancer and the other serious illnesses. He stated that the Hospice is a huge asset to the local community and hopes the donation will help in the continuation of the outstanding and exceptional care offered to those availing of the service.


Coffey is also supporting the Cope Galway Courtyard Rejuvenation project, which was completed in May, Breast Cancer Awareness Month in October and Movember, which will be raising awareness around men's health in November 2022 and beyond.
Call Coffey on 091 844 356, email at info@coffeygroup.com for more details on this event and our other work in the local and wider community.