The Civil & Construction Ireland Magazine is a quarterly publication that is directly distributed to key decision makers, such as commercial and construction managers, architects, specialist contractors, quantity surveyors, government agencies, councils, and local authorities throughout Ireland. In a recent issue, the magazine featured the ongoing project undertaken by Coffey, focused on the Galway West Water Supply Scheme – specifically the Terryland Water Treatment Plant (WTP) Intake Works Project. Coffey is responsible for delivering this project on behalf of Uisce Eireann and Galway City Council.
The project involves the construction of a new raw water intake on the River Corrib, along with the necessary infrastructure at Terryland. Once completed, this development will ensure an adequate supply of drinking water to Galway City and its surrounding areas. Additionally, the upgrade will enable potential future expansion of the water supply, while adhering to the National Drinking Water Regulations upon project completion.
This article discusses the 1,200mm transfer main pipeline connecting Terryland Intake to the existing supply which was recently completed at the site. Using trenchless technology and a Tunnel Boring Machine, the pipeline was safely installed under the N6 Motorway, minimising disruption and protecting critical assets.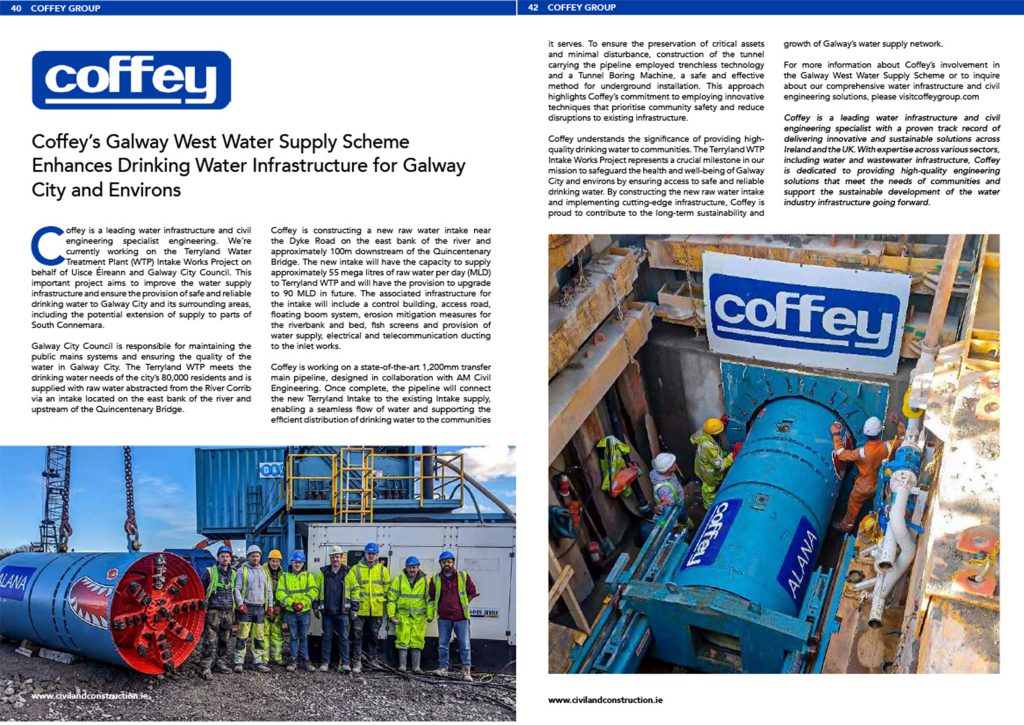 Well done to the Coffey team on the successful delivery of this challenging element of the project.
Please contact us on 091 844 356 or email info@coffeygroup.com for more details on this project, the other works we have underway with Uisce Éireann, and our other projects throughout Ireland and the UK.