Coffey has been shortlisted for the prestigious Irish Construction Excellence (ICE) Awards in the following two categories:
• Innovation in Construction – Company T/O Up to €100m
• Health, Safety & Wellbeing Initiative – T/O Up to €200m
The Irish Construction Excellence Awards – 2023
The Irish Construction Excellence Awards is an annual event that celebrates and recognizes excellence in the construction industry in Ireland. The awards showcase innovative and outstanding projects, companies, and individuals in the construction sector, and aim to promote and encourage excellence in the industry. The awards cover a wide range of categories, including commercial, residential, education, infrastructure, and health, among others. The event brings together construction professionals, industry leaders, and stakeholders to celebrate the achievements of the industry and to inspire further development and progress in the sector.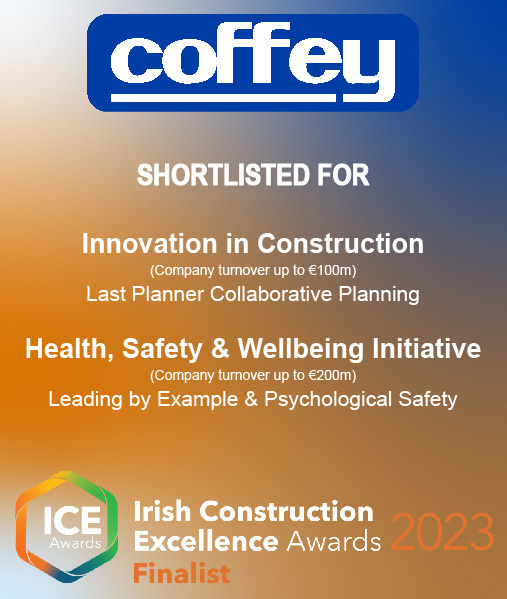 Coffey has been shortlisted in two categories for the prestigious Irish Construction Excellence Awards. The shortlisting recognises our innovative approaches and unwavering commitment to health, safety, and wellbeing, which have contributed to their success in delivering successful projects to their valued clients. This acknowledgment by the judging panel demonstrates the dedication and hard work of highly skilled teams at Coffey, who consistently prioritise excellence and deliver successful projects to our valued clients.
In today's world, the need for infrastructure that is both safe and sustainable is more pressing than ever. At Coffey, we are committed to advancing the field of construction by exploring new and innovative ways to achieve these goals. We believe that the future of construction lies in developing new methods and techniques that prioritize safety and sustainability.
To achieve our vision, we recognize that we must remain dedicated to continuous improvement. This means always striving to learn, grow, and refine our processes to stay at the forefront of the industry. By staying up to date with the latest state-of-the-art technologies and techniques, we can ensure that we are delivering the highest quality infrastructure possible.
The Irish Construction Excellence Awards celebrate the best in the industry and we are honored to be in such esteemed company. We look forward to the awards ceremony in April 2023 and wish the best of luck to all the finalists.
Please contact Coffey on 091 844 356 or email at info@coffeygroup.com for more details on the awards nominations or with any other questions on our organisation.