Construction Magazine, the official publication of the Construction Industry Federation (CIF), offers comprehensive coverage of developments across all sectors of the Irish construction industry. Widely circulated and influential, Construction Magazine informs key decision-makers about the industry's pertinent issues, while helping readers navigate the political, business, economic, and regulatory landscape.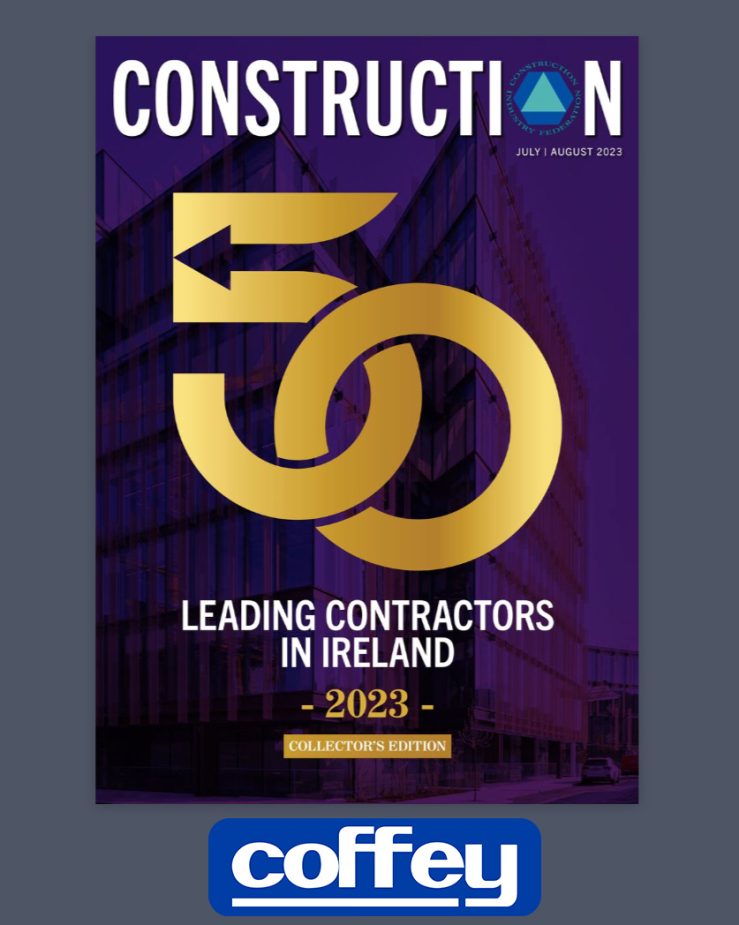 We are thrilled to announce that Coffey has achieved recognition in the prestigious annual survey published by Construction Magazine, showcasing the top contractors in the Irish market based on revenues. For the financial year ending on December 31, 2022, Coffey reported revenues of €94.5m, representing a substantial increase compared to the €52.7m reported in the 2022 survey. This exceptional growth firmly establishes Coffey as one of the major contractors in Ireland, securing our position in the esteemed Top 50 Building Contractors list for 2023.
The full survey can be found at the following link – starting at page 90 – https://www.flipsnack.com/cifconstruction/cif-construction-magazine-top-50-july-august-2023/full-view.html
At Coffey, we take immense pride in our achievements and are delighted to be acknowledged in this influential survey. We remain dedicated to delivering excellence in the Irish construction industry, consistently meeting and exceeding the expectations of our valued clients.
Congratulations to all the companies featured in the 2023 Leading Contractors survey.
We'd like to express our gratitude to Construction Magazine and the Construction Industry Federation for their unwavering support and for providing a platform to celebrate the accomplishments of our industry. Together, we can drive innovation, foster growth, and shape the future of construction in Ireland.
Don't hesitate to get in touch with us at 091 844 356 or email info@coffeygroup.com for more details on our water infrastructure and civil engineering projects throughout Ireland and the UK.